Pat's Foods
Recipes
https://www.patsfoodsiga.com/Recipes/Detail/7999/Pumpkin_Cheesecake_Pie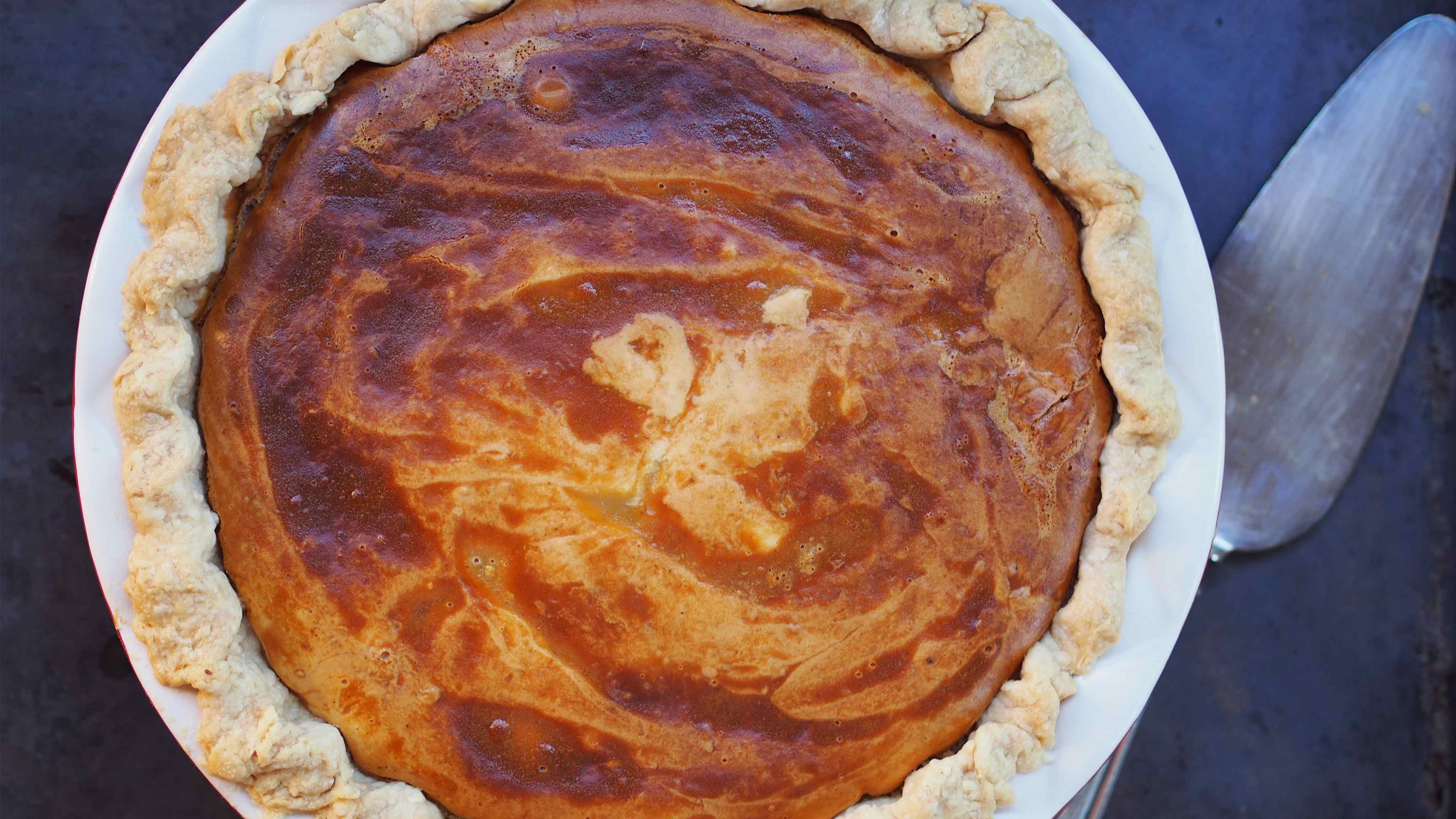 Pumpkin Cheesecake Pie
Yield: 8 servings
Ingredients
Crust:

1/2

recipe flaky pastry pie crust (1 pie crust)*, refrigerated OR store bought pie crust (1 pie crust)

Cheesecake filling:

1
package

(8 ounces) cream cheese, softened

1/3
cup

granulated sugar

1

egg

1
teaspoon

vanilla extract

Pumpkin filling:

3/4
cup

granulated sugar

1
teaspoon

ground roasted ginger

1
teaspoon

ground cinnamon

1/2
teaspoon

ground nutmeg

1/4
teaspoon

ground allspice

1/4
teaspoon

salt

1
can

(15 ounces) pumpkin puree

1
cup

evaporated milk

3

eggs, lightly beaten
Directions:
Preheat the oven to 425 degrees F

Remove the crust from the refrigerator and place on a floured work surface. Roll the crust into a 13" round and transfer it to a 9-inch pie plate. Crimp the edges.

Cheesecake filling:
Combine the cream cheese and 1/3 cup sugar in the bowl of an electric mixer fitted with the paddle attachment. On low speed, beat until the mixture is fairly smooth. Stir in the egg and vanilla; spoon the filling into the pie crust.

Pumpkin filling:
In a medium bowl, whisk together the 3/4 cup sugar, ginger, cinnamon, nutmeg, allspice and salt. Add the pumpkin, evaporated milk and eggs, and whisk until smooth, but do not over mix.

Gently spoon the pumpkin filling atop the cheesecake layer.

Bake the pie for 15 minutes at 425 degrees F then reduce the oven temperature to 350 degrees F and cook for another 40 to 45 minutes more.

When done, remove pie from oven and allow it to cool to room temperature.

Refrigerate pie until ready to serve.

*Search for the Flaky Pastry Pie Crust recipe and cut the recipe in half resulting in 1 pie crust.

Photo and food styling by Webstop
Please note that some ingredients and brands may not be available in every store.
Pat's Foods
Recipes
https://www.patsfoodsiga.com/Recipes/Detail/7999/