Pat's Foods
Recipes
https://www.patsfoodsiga.com/Recipes/Detail/7335/Eggplant_Parmesan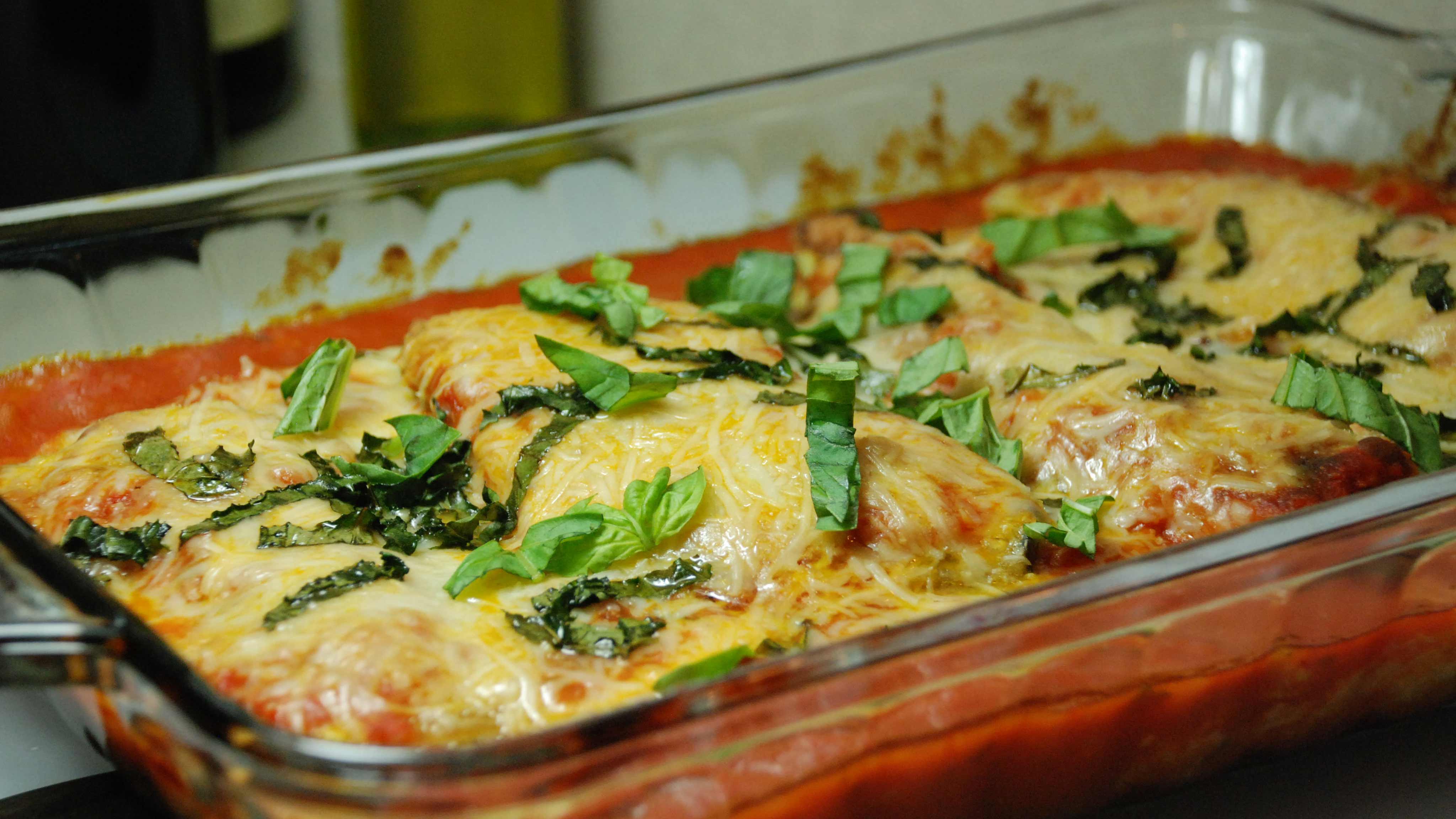 Eggplant Parmesan
Yield: 8 servings
Ingredients
2
pounds

(about 2 large) eggplants

1/4
cup

sea salt

4
cups

marinara or pasta sauce

1/2
cup

flour

1/2
cup

dried breadcrumbs

4

large eggs, beaten

3
cups

(12 ounces) mozzarella cheese, shredded

1
cup

(4 ounces) grated Parmesan Cheese

1/4
cup

fresh basil leaves

extra virgin olive oil for frying
Directions:
Cut the eggplants lengthwise into 1/4 inch slices. Arrange one layer in the bottom of a large colander and sprinkle evenly with salt. Repeat with remaining eggplant, salting until all the eggplant is in the colander. Weigh down the slices with a couple of plates and let drain for 2 hours. The purpose of this step is to release some of the moisture from the eggplant before cooking.

When the eggplant has drained, press down on it to remove excess water, wipe off the excess salt, and lay the slices out on paper towels to remove the moisture. In a wide shallow bowl, combine flour and breadcrumbs. Mix well. Pour the beaten eggs into another wide shallow bowl. Place a large deep skillet over medium heat, and pour in a 1/2 inch of oil. Dredge the eggplant slices first in the flour mixture, then in the beaten egg. Working in batches, slide the coated eggplant into the hot oil and fry until golden brown on both sides, turning once. Drain on paper towels.

Preheat the oven to 350 degrees. In the bottom of a 10x13 inch glass baking dish, spread 1 cup of the pasta sauce. Top with one third of the eggplant slices. Top the eggplant with half of the shredded cheese. Sprinkle with one third of the parmesan and half of the basil.

Make a second layer of eggplant slices, topped by 1 cup of pasta sauce, remaining shredded cheese , half of the remaining parmesan and all of the remaining basil. Add the remaining pasta sauce and parmesan.

Bake until the cheese has melted and the top is slightly brown, about 30 minutes. Allow to rest at room temperature for about 10 minutes before serving.
Photo and food styling by Webstop
Please note that some ingredients and brands may not be available in every store.
Pat's Foods
Recipes
https://www.patsfoodsiga.com/Recipes/Detail/7335/