Pat's Foods
Recipes
https://www.patsfoodsiga.com/Recipes/Detail/7326/Chocolate_Cheesecake_with_Blueberries_and_Sliced_Almonds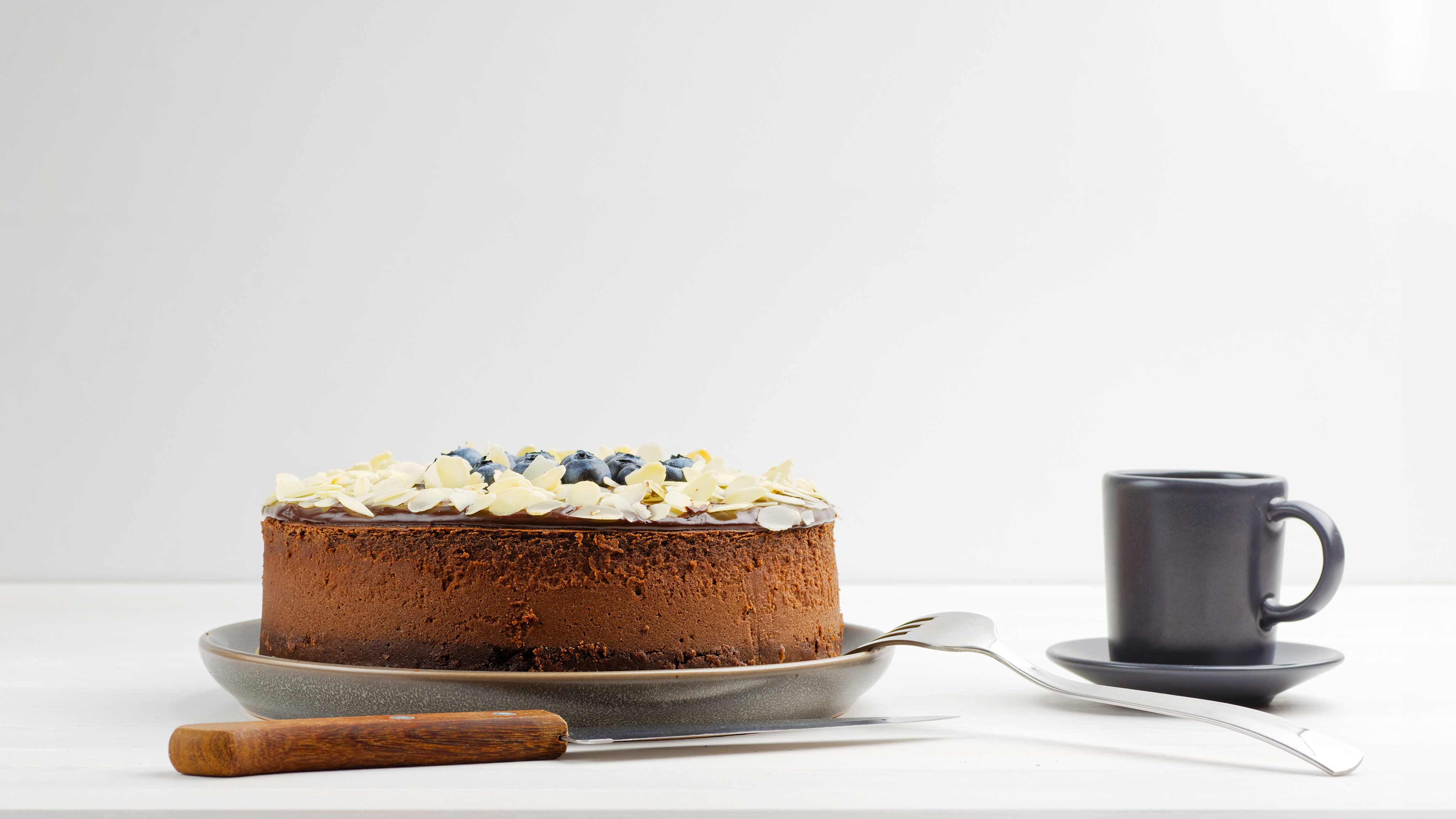 Chocolate Cheesecake with Blueberries and Sliced Almonds
Yield: 12-16 servings
Ingredients
Cheesecake:

1 1/2
cups

vanilla wafer cookie crumbs (about 46 regular sized cookies)

1/2
cup

powdered sugar

1/3
cup

unsweetened cocoa powder

1/3
cup

unsalted butter, softened

2
cups

dark chocolate chips

3
packages

(8 ounce each) cream cheese

1
can

(14 ounce) sweetened condensed milk

4

eggs

2
teaspoons

pure vanilla extract

Ganache Topping:

1/2
cup

heavy cream

1
cup

semi-sweet chocolate chips

1/2
cup

blueberries

1/2
cup

sliced almonds
Directions:
Preheat the oven to 300 degrees F

In a large mixing bowl, mix by hand crushed vanilla wafers, confectioners sugar, cocoa and butter. Line the bottom and sides of a 9- inch springform pan with parchment paper. Press mixture into pan.

In the top of a double boiler, melt the dark chocolate morsels, stirring until the mixture is very smooth.

In a large bowl, beat the cream cheese with an electric mixer until fluffy. Gradually add the sweetened condensed milk and beat until smooth. Mix in the melted chocolate, eggs and vanilla. Continue to beat at a low speed until the ingredients are thoroughly blended. Pour the filling into the prepared crust.

Bake for 55 minutes. The cake will seem underbaked in the center, but will continue to cook after you remove it from the oven.

Let cool on a wire rack for about 45 minutes.

Spread cooled ganache over the cheesecake. Place blueberries on the top center of the cheesecake covering about a three inch diameter. Place sliced almonds over the ganache surrounding the blueberries and to the edges of the cheesecake. Refrigerate for at least 4 hours. Remove sides of pan and tear off excess parchment paper before serving.

For the ganache:
In a small saucepan with a lid, slowly bring the heavy cream to a slight boil. Turn off the heat and add chocolate chips. Combine by pushing the chips into the cream until almost completely covered. Put the lid on the pan and let sit on the stove for 10 minutes.

Stir until the chocolate chips are melted and fully blended into the cream. Cool to room temperature.
Please note that some ingredients and brands may not be available in every store.
Pat's Foods
Recipes
https://www.patsfoodsiga.com/Recipes/Detail/7326/