Pat's Foods
Recipes
https://www.patsfoodsiga.com/Recipes/Detail/4841/Easy_Pizza_Margherita_on_the_Grill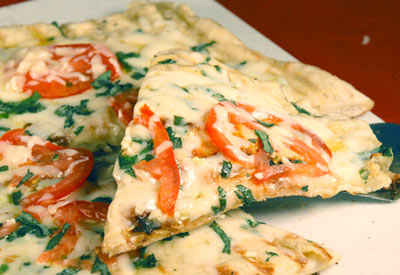 Easy Pizza Margherita on the Grill
Yield: 4 servings (2 slices each)
Ingredients
1-2
Tablespoons

cornmeal

1
bag

pizza crust mix or prepared pizza dough

1/4
cup

olive oil

1
Tablespoon

fresh basil leaves, chopped

1/2
cup

(4 oz) mozzarella cheese, shredded

1/4
cup

grated Parmesan cheese

1

large tomato, thinly sliced and blotted with paper towels to remove excess moisture.

1

large clove garlic, minced

15

basil leaves, stacked, rolled and sliced to make ribbons (chiffonade)
Directions:
Brush grill rack with oil. Preheat grill to medium heat. For charcoal, place the rack 3 to 4 inches above the coals.

Dust the surface of a large baking sheet with cornmeal. Shape the dough into a 10-12 inch circle or rectangle that is 1/4-inch thick. Take care to maintain an even thickness.

Blend oil and 1 Tbsp chopped basil leaves. Place basil/oil mixture, shredded cheeses, tomatoes, garlic and fresh basil chiffonade on a platter and place near the grill.

Carefully lift dough and drape over grill rack. Within a minute or two, the dough will begin to puff, the underside will firm up and grill marks will appear.

Using tongs flip the crust over. Brush 1/2 of basil/oil mixture over pizza crust to within 1/2-inch of the outer edge. Scatter mozzarella and parmesan cheeses evenly over crust. Add tomato slices and garlic. Drizzle remaining basil/oil mixture over crust if desired.

Continue to grill another 4 to 5 minutes until cheeses are melted and grill marks begin to appear on the underside of the crust. Scatter basil chiffonade over crust and remove from heat. Slice and serve immediately.
Photo and food styling by Webstop
Please note that some ingredients and brands may not be available in every store.
Pat's Foods
Recipes
https://www.patsfoodsiga.com/Recipes/Detail/4841/